Raymarine Automated Identification Systems (AIS)
(2)
Browse Automated Identification Systems (AIS)
Automated identification system (AIS) products updated recently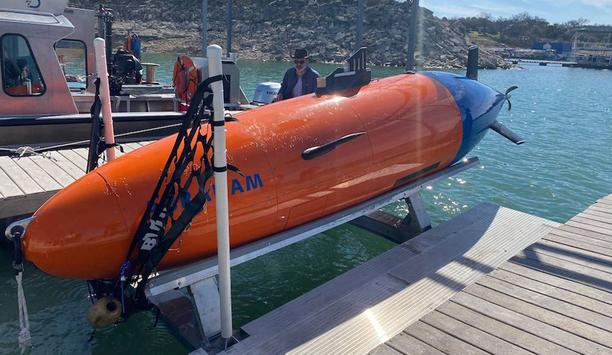 Ocean conservation shouldn't be entertainment; we're at war
When I recently read about OceanXplorers, Disney Plus' new series about heroic scientists researching the world of the deep, I was excited—not least for my kids—and quietly dismayed. Our society needs to do for the ocean what Carl Sagan and Neil DeGrasse Tyson did for outer space: familiarise ourselves, get excited, engage and connect. That said, NASA's funding is $22.6 billion, and NOAA received roughly one-quarter of that at $5.4 billion. A decent amount of people reading this may not even know what NOAA is. At the risk of alienating the reader, let me point out that I love NASA. Facing severe resource constraints on Earth, we must explore outer space both for humanity and science. Efforts to save the ocean But it appears that the majority of the human population, if not located on a coast, treats the ocean as something nice to visit and beautiful to look at (which it is) instead of a critical part of the planet. If ocean exploration, conservation, and protection efforts are best known as edutainment, we're in serious trouble. We're at war for our lives and need to approach the problem accordingly because when things get too hot, I guarantee a spaceship won't save us all. The problems that kill us More CO2 means less oxygen, bleached coral reefs, suffocated ocean species, and violent weather People like to make war references in daily conversation. The war on drugs. The war on guns. The war with my waistline. You can go to war with anything these days. I don't use that term loosely, considering I was a Navy SEAL officer for a time. Based on that experience, I intuitively understand that the risks that end up killing you are the ones you overlooked or minimised. Minimising human-induced oceanic changes is one of those risks. The ocean is the planet's air conditioner, according to climate scientist Dr. Roberto Mera. Our advisor Dr. Dan Laffoley once said that the ocean is absorbing six atomic bombs' worth of energy every day. More CO2 means less oxygen, bleached coral reefs, suffocated ocean species (including the ones we eat), and an array of violent weather, from Katrina to the California wildfires. Creating a force to be reckoned with What gives us life, in other words, is increasingly positioned to destroy us. We need to have grown-up conversations about the vast and precious resource that is the ocean. To go there, it helps to revisit warfare. I'm not talking about the damaging nonsense that involves sabotaging vessels or hurting people to save fish. I'm talking about network-centric warfare, a modern military theory in which the smart and rapid centralisation and decentralisation of information create a force to be reckoned with. A complex problem Databases are disparate and incompatible, often filled with unsearchable, useless, aged data Like modern warfare, saving the ocean is a complex problem with a disaggregated group of stakeholders, some in competition, some helpful, depending on the day. People scream from the rooftops that we need to do something, but everyone's doing it their way. Oceanographers, entrepreneurs, climate scientists, marine biologists, conservationists, geologists, militaries, extraction businesses, telecommunications companies, pharma companies, etc., all have their sources of data. Databases are disparate and incompatible, often filled with unsearchable, useless, aged data. A murky struggle Collaboration and partnerships are very limited - and difficult. Conservation groups struggle to survive, subsidized by oil and gas scraps. Marine conservation enforcement entities generate their intelligence while simultaneously trying to combat illegal fishing and encroachment. The United Nations attempts to wrangle sovereign nations to contribute to the effort through Sustainable Development Goals but struggles with authority and cohesion. A network-centric approach At war, we faced a mess of non-state actors, shifting alliances, misinformation, and ambiguous goals. We decentralised where we could and centralised where we had to. It was a way of mitigating risk while blanketing a complex problem set. I see similar opportunities in the murky, complex, diverse group of stakeholders and competitors in ocean protection, conservation, and use. We can work to save it with a similar approach: 1) Identification, framing, and understanding "Traditional" analytical decision-making and planning methodologies often fall short In modern war, volatility, uncertainty, complexity, and ambiguity are constant conditions. "Traditional" analytical decision-making and planning methodologies often fall short. Successful parties fanatically focus on finding the real problem(s), labour to put them into context, and work towards a full understanding of a problem set. This often means garnering multiple different perspectives on the issues, in an attempt to saturate the party within the fullness of the problem. Through that saturation, teams come to a workable initial solution almost intuitively—and then refine from there. Ocean stakeholders need to adopt a similar mindset, and fanaticism, around understanding multiple different perspectives instead of retreating into their separate ideological camps. And yes, this will require die-hard ocean conservationists to speak frequently and find common ground with die-hard ocean resource extraction personnel, and vice-versa. 2) Intelligence fusion cells Become obsessed with the intake of disparate datasets, a fusion of those data, and distributing the most relevant data to a wide stakeholder base. In the war, this meant standing up intelligence fusion cells that ingested data from a staggering amount of sources, vetted it, organised it, added context and guidance, and distributed it to the problem-solvers who needed it—in real-time, all the time. Decentralised and autonomous Ocean protection and conservation entities need to remain decentralised and autonomous Ocean protection and conservation entities need to remain decentralised and autonomous due to geographic dispersion. We can, however, create a central clearinghouse for ocean data to empower and enable those decentralised units. For example, a cloud-based, UN-level entity could act as an ocean intelligence fusion cell. The mission of the entity could be something like: "to balance ocean conservation and human needs across time for the sustainability of Earth." Ocean stakeholder entities This common information platform would be permanently staffed by a rotating group of cross-functional ocean SMEs: conservationists, scientists, and yes, resource extraction personnel from arenas such as commercial fishing, marine mining, oil and gas, offshore wind, etc. Ocean stakeholder entities could apply for membership, be vetted by the fusion cell's security group, commit to a membership charter, and be eligible to receive fast, accurate, applicable, and actionable intelligence as it becomes available. 3) Smart autonomy At war, the action was not prescribed from on high. Most ' top-down' transmission consisted of information and context. Commanders trusted their subordinates to solve problems quickly and autonomously with fast, good information. Ocean fusion cells would provide data and information creating better future decision-making Similarly, our ocean fusion cell would provide data and information from whatever activity was conducted to monitor for second-and third-order effects, creating better future decision-making. After-action reviews and post-mortems from ocean activities would be widely socialised via the platform, ensuring lessons learned were both captured and distributed to enable learning from past mistakes. This approach requires an investment of time, money, and humans. But it would be transformational concerning the clarity a diverse set of stakeholders would have on ocean activities. And clarity, especially in a war, is utterly priceless. The time is now The time has come to apply the principles of network-centric warfare to the ocean. Five years ago, the requisite compute, AI power, and data collection capabilities for a data fusion entity powered by a massive central data platform didn't exist. Today it does. For the first time in humanity, we can gain a holistic understanding of the ocean, and the entire Earth. The technological advances came just in time. Let's use them.
Cruise industry receives lifeline from Finnish pioneers in safety innovation race
The cruise industry has received a vital lifeline in its bid to safely set sail once again. Several pioneering Finnish businesses and organisations have developed new, innovative safety approaches for the sector to adopt, in response to new post-pandemic measures. These new initiatives and research projects are set to bring the industry back from the brink and ensure a safer and successful cruise experience for all. Undertaking health and safety measures Expectations surrounding cruises today have changed beyond all recognition in the wake of the COVID-19 pandemic. Whilst the safety and wellbeing of passengers and staff has always been a top priority for the industry, its recovery depends on taking health and safety measures to a new level, to drive stability and sustainability in the challenging years ahead. Since the onset of the COVID pandemic, Finnish research organisations and companies have led the charge in responding to the industry's call for new solutions to support its resurgence. With viable options showing what is possible, the future of the industry looks bright and secure. Healthy Travel project Researchers collaborated with cruise companies to find ways of improving health and safety on cruise ships The Healthy Travel project[i] is one such initiative: researchers collaborated with cruise companies, shipyards, and subcontractors to find ways of improving health and safety on cruise ships and in terminal buildings. Researchers in cell biology and industrial management created models to analyse passenger flows on vessels of different sizes and developed processes and procedures to minimize infection risks. To further understand the role of breathing, coughing, and sneezing in spreading COVID-19, researchers from Tampere University, VTT Technology Research Centre of Finland, and the Finnish Institute for Health and Welfare created a robot head [ii] prototype as part of the AIRCO research project. Air purification techniques The initial aim of the robot was to support the design and planning of all kinds of indoor spaces, including ships and terminals, and to measure the effectiveness of masks, ventilation, and air filtration and purification solutions in preventing the spread of viruses. Ensuring indoor air quality (IAQ) is also a crucial factor for minimising infections among passengers and crew. To support the need for better air purification techniques, interior accommodation provider ALMACO partnered with Genano [iii] to provide the marine and offshore industry with advanced air decontamination technology that removes airborne impurities of all sizes, including microbes and the novel coronavirus. Developing solutions for material flow on ships KONE researched with several cruise line companies to develop solutions for people and material flows on ships In addition to air quality, the flow of people and material can have a huge impact on the transmission of airborne viruses. KONE [iv], a global pioneer for marine elevators and escalators, conducted intensive research in partnership with several cruise line companies to develop new solutions for people and material flows on ships while improving health and safety on board and in the terminals. This involved collecting data with sensors installed on ships, timing activities, and conducting interviews with passengers and crew members. In the same vein, an IoT platform from Hypercell[v] uses Bluetooth signal sensors to collect data on people volumes, dwell times, and flows in indoor and outdoor locations. Innovation is key Innovative approaches are the way forward for the industry to get back on its feet, but with so much at stake, these next steps are crucial to get right. Accurate data, insight, and new techniques will play a key role in moving forward, as Timo Pakarinen, managing director for KONE's marine business explains, "Any changes on cruise ships must be fact-based and commercially viable solutions because the investments required are so large." Supporting cruise industry recovery "Collaborative research projects such as these, which have been initiated and funded by Business Finland, will continue to produce innovations and technologies to support the recovery and future viability of the cruise industry for many years to come." "Finland now offers leading technologies and solutions focusing on indoor air quality, passenger flows, safety protocols, and touchless solutions. The insights gained from this vital research are also contributing to the design of new cruise ships," says Ulla Lainio, Head of Marine & Ports Global Industry Team at Business Finland.
Sea Shepherd Italia takes the long view on conservation with Raymarine's help
'If the oceans die, we die.' The Sea Shepherd group, an international, non-profit, direct-action organisation dedicated to the protection and conservation of marine life, is well used to laying out hard truths in the bluntest terms possible to get its message across. The group's Italian arm, Sea Shepherd Italia Onlus, was founded in July 2010. Since then, its volunteers have been tirelessly involved in safeguarding the biodiversity of the rich marine ecosystems which surround Italy's 7,000km of coastline, a mission which – to borrow Sea Shepherd's own phraseology – requires 'courage, commitment, respect, determination, and precision.' It also requires the most rugged, reliable, user-friendly, high-performance technical equipment available. To this end, Sea Shepherd Italia has struck up a partnership with Raymarine, attracted by the company's trusted reputation as a world-leading provider of innovative marine electronics. Situational awareness Raymarine's involvement with Sea Shepherd Italia began in 2019 when the company equipped the Italian organisation's 7m RIB with an Axiom 9 RV multifunction display (MFD), a Quantum CHIRP Pulse Compression radar with Doppler collision-avoidance functionality, an AIS700 Class B AIS transceiver, and an M232 thermal camera with ClearCruise AR (augmented reality) technology. The new equipment was chosen to form an integrated system that would maximise situational awareness and crew safety Last year, Raymarine stepped up again to equip Sea Shepherd Italia's 17m catamaran Conrad with an M346C LR thermal camera, an AR200 Augmented Reality Stabilisation Module, and an Axiom 12 Pro MFD. An eS127 MFD was already on board, which has now been replaced with a second Axiom 12 Pro. The new equipment was chosen carefully to form an integrated system that would maximise situational awareness and crew safety in all conditions, as the volunteers go about their duties. "We chose Raymarine because they offer the best visual navigation information and technology on the market," explains Erica Varaia, Italian media coordinator and Sea Shepherd Italia volunteer, who started on board Conrad in 2020. Using a long-range thermal camera Expert knowledge from the Raymarine team in Italy ensured that the Sea Shepherd vessels received the equipment best suited to their needs. "Both Conrad and the 7m RIB are about to set off on missions over the summer around the Aeolian Islands," says Carlo Baj, Country Manager, Maritime, Raymarine Italia. "The work often involves night operations, for instance, to remove illegal fishing nets or to check if there are fishing boats without licences in forbidden zones, so a thermal camera is vital in this respect. "The M346C LR is a long-range thermal camera with a very powerful 30x optical zoom. It also features two-axis mechanical stabilisation, so even when the boat is pitching, this movement is compensated for by the mechanical motion of the camera." Clear understanding The thermal image can also be very helpful during the day if a target boat is behind a promontory or another vessel " Carlo Baj also points out the advantages of integrating the thermal camera with the Axiom 12 MFD. "It means that volunteers can navigate easily on their night missions just looking at the thermal camera display because it enables a lot of additional information to be overlaid – everything from AIS targets to waypoints. The thermal image can also be very helpful during the day if a target boat is behind a promontory or another vessel, or if it's cloudy, or if there's anything else that prevents the crew from seeing it clearly. "The technology gives users a clear understanding of what is surrounding them in their sailing area. It's a very useful safety feature, and we are the only electronics provider offering this kind of technology for maritime systems." Protecting the waters The ability to definitively identify suspect vessels and discover whether unlawful fishing activities are being carried out is central to Sea Shepherd's missions, and the Raymarine equipment on the Italian fleet is proving indispensable for ongoing initiatives such as Operation Siso. This campaign aims to protect the waters around the Aeolian Islands from illegal, unreported, and unregulated fishing, with a particular focus on the use of illegal FADs (fish aggregating devices). The statistics are sobering. By the tail-end of 2019, it was estimated that there were up to 10,000 illegal FADs in use in the Tyrrhenian Sea alone. The problem is compounded by the fact that illegal FADs are often discarded in the sea. The scale of the consequent plastic pollution is alarming: figures suggest that around 1.5 million FADs have been abandoned to float in the Mediterranean. Recognise and respond The Sea Shepherd volunteers are passionate about their work, with an inexhaustible drive to protect and conserve marine ecosystems for future generations to enjoy. There are no grey areas, and this clarity of purpose is reflected in their choice of Raymarine systems to assist them on their missions. The thermal camera has two lenses making it much easier to see and identify floating objects, as well as other vessels "Our Raymarine equipment has been instrumental in mapping and saving the locations of illegal fishing methods," explains Erica Varaia. "It has also been used to photograph and record at times when an operator could not intervene. By providing an extra eye on the horizon, the technology has proved an invaluable companion for the crew of the M/Y Conrad and the fast craft Hunter." The augmented reality features offered by ClearCruise, such as Recognize and Respond functionality, are of particular value. The thermal camera has two lenses that combine visible camera details with thermal imaging, making it much easier to see and identify floating objects, as well as other vessels, which appear as colour overlays within the thermal picture. Day and night surveillance "Raymarine's technical support assisted at all times, helping us to install and set up all the additional components of the navigation system," continues Varaia. "They made it clear that we would be able to benefit from their full customer support system and that was the case, making it possible to troubleshoot, install and set up the technology smoothly and correctly. "The technology has proven to be consistently reliable," she concludes. "The crew relies on it fearlessly, saving positions, photographing at night, and using it daily."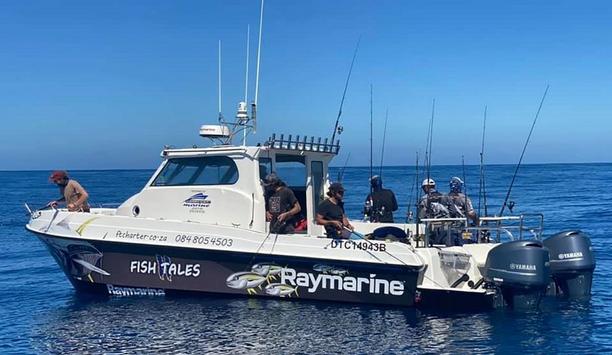 Raymarine's electronics helps Fish Tales Charters in setting world record
Fish Tales Charters operates out of Hout Bay, a seaside suburb of Cape Town, and Struisbaai, a coastal settlement in the Western Cape Province. The business is run and staffed entirely by a group of cheerful and capable guys whose experience at the helm is matched with an unquenchable enthusiasm for the sport. Lining up alongside skipper Justin van der Walt (AKA 'One-Armed Bandit') are Johann Kruger (AKA 'Tap Tap Go'), world-record bigeye tuna skipper Mark Manchip (AKA 'The Destroyer') and Nick Marnitz (AKA 'Vermuis'), the youngest charter skipper in the company. "It really just started as a hobby," remarks Justin. "I think most guys in charter operations start that way. We do it because we love fishing, I don't think you go out from the onset to say, 'I'm going to make money from this; it was just something that turned into a business." Setting a world record Justin with Raymarine's assistance helped a customer to claim his place in the record books As will become evident, the 'hobby' descriptor casually underplays the all-consuming passion which Justin shares with his fellow skippers and which, with Raymarine's assistance, saw them helping a customer to claim his place in the record books. Justin explains how the client in question would have missed out altogether on setting a world record had a Raymarine Axiom 9RV multifunction display not alerted those on board the Fish Tales boat on that particular day to a striking presence in the water. "Mark Manchip, one of our most long-standing skippers, was out on a spear-fishing charter," Justin begins, "but by 1600 they still had no fish on the boat. Like the spear, Dewald Lategan, was busy packing up his kit, Mark saw a big fish enter the chum line on the Axiom 9RV side-scan, and it then stayed under the boat, eating the chum. Mark told Dewald to quickly kit up and jump into the water, which delivered quite a result: the fish turned out to be a world-record bigeye tuna of 117kg." Importance of gear This clear highlight from the company ledger also neatly demonstrates how essential it is for Justin and the team to be armed with the best available gear if they are to ensure fulfilling results for their clients while scratching the itch that keeps them casting lines themselves. As such, Fish Tales Charters runs two robust, all-round vessels, Fish Tales and Fish Tales II, both purpose-built by carrying Cat Marine, and both fully equipped with Raymarine electronics. "We commissioned them both," Justin confirms. "The first boat, Fish Tales, was a 25-footer which is now a 28-footer, and Fish Tales II was the first of the line for their 33-footers. We had a lot of input into the design of the cabin and cockpit." Fishing Justin and his co-workers routinely join in with the fishing when customers charter the boats As Dewald Lategan's record-breaking catch memorably proves, Justin and his co-workers routinely join in with the fishing when customers charter the boats. "We specialise in yellowfin tuna and bigeye tuna," he says – his own personal record for a yellowfin tuna catch is an impressive 104kg specimen – "and then the odd southern bluefin comes up, in addition to lots of albacores, longfin tuna. At this time of the year, we operate in Struisbaai, the southernmost tip of Africa, and we focus on yellowtail, which is also a pelagic species; you get them in New Zealand too. On a typical day, we'll catch 10 to 15 different species of fish." Installation of electronics As was vividly established earlier, the array of Raymarine electronics installed on both boats is key to the success of these outings. Fish Tales is equipped with three Axiom MFDs, a Quantum radar system with a range of 24NM, an Evolution autopilot, a transom-mounted TM265lh 1KW CHIRP transducer, an RVX1000 3D clear pulse CHIRP sonar system, and an RV-100 RealVision 3D CHIRP transducer. The RV-100 is consistently indispensable for helping to catch yellowfin tuna, as Justin explains. "Compatible with the Axiom displays, the RV-100 combines 3D, Downvision, and SideVision, The SideVision is useful for when we create a chum line in areas where the yellowfin tuna are located. We get a lot of people who want to do side casting, and the RV-100's SideVision allows us to pinpoint the fish. We're able to say, for example, cast your popper on the port side of the vessel at 30m, and then you'll be in the area where the fish are. So that has been extremely beneficial to us. It's made a really big difference." High-end equipment FLIR thermal camera is a valuable collision-avoidance asset on charters The flagship vessel, Fish Tales II, has more high-end Raymarine equipment on board. A FLIR thermal camera is a valuable collision-avoidance asset on charters where nighttime sea hours are involved; while Justin is proud to observe that the large 24in Axiom XL MFD on the vessel (paired with a 12in Axiom Pro) was the only one in Africa at the time of installation. "The core functionality on both boats is the same, however," Justin points out, with Raymarine ship-to-shore communication and VHF radio systems rounding out the specification. Raymarine's ambassador Fish Tales became Raymarine's official Ambassador for South Africa in 2018, an accolade which Justin says "means a lot to us. It's recognition from an international brand that they regard us as a proper, ongoing business." Shrewd and attentive budgeting has enabled the company to withstand the worst effects of the pandemic. Charterers can once more look forward to productive excursions with Fish Tales – as long as they don't bring any bananas or boiled eggs on board. "It's just a bad omen," Justin laughs. "Whether you believe in it or not, we tend to find the fishing is much worse if somebody smuggles bananas or boiled eggs onto the boats. No fish come out on the day!"
A state-of-the-art Raymarine electronics package for P&O's 'indestructible' new pilot boat
Tideman Boats' latest pilot vessel is destined for an active working life with P&O Maritime Logistics in Mozambique, equipped with an array of cutting-edge Raymarine electronics. Offshore support vessels have a demanding life and none more so than the pilot boats which transport crews between ship and shore. Travelling at high speeds in often jarring sea states, these vessels are expected to combine an exceptional standard of safety with similarly pronounced levels of structural strength and ride comfort.