Raymarine Marine Radars
(12)
Radar products updated recently
Sea Shepherd Italia takes the long view on conservation with Raymarine's help
'If the oceans die, we die.' The Sea Shepherd group, an international, non-profit, direct-action organisation dedicated to the protection and conservation of marine life, is well used to laying out hard truths in the bluntest terms possible to get its message across. The group's Italian arm, Sea Shepherd Italia Onlus, was founded in July 2010. Since then, its volunteers have been tirelessly involved in safeguarding the biodiversity of the rich marine ecosystems which surround Italy's 7,000km of coastline, a mission which – to borrow Sea Shepherd's own phraseology – requires 'courage, commitment, respect, determination, and precision.' It also requires the most rugged, reliable, user-friendly, high-performance technical equipment available. To this end, Sea Shepherd Italia has struck up a partnership with Raymarine, attracted by the company's trusted reputation as a world-leading provider of innovative marine electronics. Situational awareness Raymarine's involvement with Sea Shepherd Italia began in 2019 when the company equipped the Italian organisation's 7m RIB with an Axiom 9 RV multifunction display (MFD), a Quantum CHIRP Pulse Compression radar with Doppler collision-avoidance functionality, an AIS700 Class B AIS transceiver, and an M232 thermal camera with ClearCruise AR (augmented reality) technology. The new equipment was chosen to form an integrated system that would maximise situational awareness and crew safety Last year, Raymarine stepped up again to equip Sea Shepherd Italia's 17m catamaran Conrad with an M346C LR thermal camera, an AR200 Augmented Reality Stabilisation Module, and an Axiom 12 Pro MFD. An eS127 MFD was already on board, which has now been replaced with a second Axiom 12 Pro. The new equipment was chosen carefully to form an integrated system that would maximise situational awareness and crew safety in all conditions, as the volunteers go about their duties. "We chose Raymarine because they offer the best visual navigation information and technology on the market," explains Erica Varaia, Italian media coordinator and Sea Shepherd Italia volunteer, who started on board Conrad in 2020. Using a long-range thermal camera Expert knowledge from the Raymarine team in Italy ensured that the Sea Shepherd vessels received the equipment best suited to their needs. "Both Conrad and the 7m RIB are about to set off on missions over the summer around the Aeolian Islands," says Carlo Baj, Country Manager, Maritime, Raymarine Italia. "The work often involves night operations, for instance, to remove illegal fishing nets or to check if there are fishing boats without licences in forbidden zones, so a thermal camera is vital in this respect. "The M346C LR is a long-range thermal camera with a very powerful 30x optical zoom. It also features two-axis mechanical stabilisation, so even when the boat is pitching, this movement is compensated for by the mechanical motion of the camera." Clear understanding The thermal image can also be very helpful during the day if a target boat is behind a promontory or another vessel " Carlo Baj also points out the advantages of integrating the thermal camera with the Axiom 12 MFD. "It means that volunteers can navigate easily on their night missions just looking at the thermal camera display because it enables a lot of additional information to be overlaid – everything from AIS targets to waypoints. The thermal image can also be very helpful during the day if a target boat is behind a promontory or another vessel, or if it's cloudy, or if there's anything else that prevents the crew from seeing it clearly. "The technology gives users a clear understanding of what is surrounding them in their sailing area. It's a very useful safety feature, and we are the only electronics provider offering this kind of technology for maritime systems." Protecting the waters The ability to definitively identify suspect vessels and discover whether unlawful fishing activities are being carried out is central to Sea Shepherd's missions, and the Raymarine equipment on the Italian fleet is proving indispensable for ongoing initiatives such as Operation Siso. This campaign aims to protect the waters around the Aeolian Islands from illegal, unreported, and unregulated fishing, with a particular focus on the use of illegal FADs (fish aggregating devices). The statistics are sobering. By the tail-end of 2019, it was estimated that there were up to 10,000 illegal FADs in use in the Tyrrhenian Sea alone. The problem is compounded by the fact that illegal FADs are often discarded in the sea. The scale of the consequent plastic pollution is alarming: figures suggest that around 1.5 million FADs have been abandoned to float in the Mediterranean. Recognise and respond The Sea Shepherd volunteers are passionate about their work, with an inexhaustible drive to protect and conserve marine ecosystems for future generations to enjoy. There are no grey areas, and this clarity of purpose is reflected in their choice of Raymarine systems to assist them on their missions. The thermal camera has two lenses making it much easier to see and identify floating objects, as well as other vessels "Our Raymarine equipment has been instrumental in mapping and saving the locations of illegal fishing methods," explains Erica Varaia. "It has also been used to photograph and record at times when an operator could not intervene. By providing an extra eye on the horizon, the technology has proved an invaluable companion for the crew of the M/Y Conrad and the fast craft Hunter." The augmented reality features offered by ClearCruise, such as Recognize and Respond functionality, are of particular value. The thermal camera has two lenses that combine visible camera details with thermal imaging, making it much easier to see and identify floating objects, as well as other vessels, which appear as colour overlays within the thermal picture. Day and night surveillance "Raymarine's technical support assisted at all times, helping us to install and set up all the additional components of the navigation system," continues Varaia. "They made it clear that we would be able to benefit from their full customer support system and that was the case, making it possible to troubleshoot, install and set up the technology smoothly and correctly. "The technology has proven to be consistently reliable," she concludes. "The crew relies on it fearlessly, saving positions, photographing at night, and using it daily."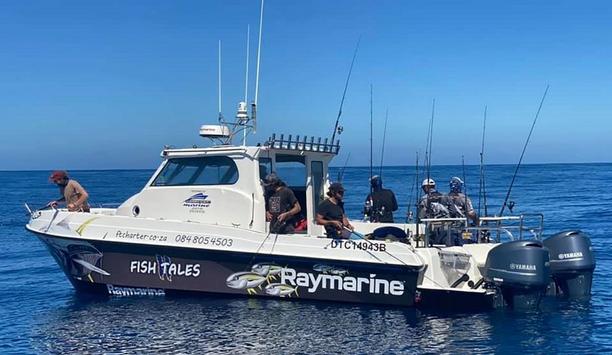 Raymarine's electronics helps Fish Tales Charters in setting world record
Fish Tales Charters operates out of Hout Bay, a seaside suburb of Cape Town, and Struisbaai, a coastal settlement in the Western Cape Province. The business is run and staffed entirely by a group of cheerful and capable guys whose experience at the helm is matched with an unquenchable enthusiasm for the sport. Lining up alongside skipper Justin van der Walt (AKA 'One-Armed Bandit') are Johann Kruger (AKA 'Tap Tap Go'), world-record bigeye tuna skipper Mark Manchip (AKA 'The Destroyer') and Nick Marnitz (AKA 'Vermuis'), the youngest charter skipper in the company. "It really just started as a hobby," remarks Justin. "I think most guys in charter operations start that way. We do it because we love fishing, I don't think you go out from the onset to say, 'I'm going to make money from this; it was just something that turned into a business." Setting a world record Justin with Raymarine's assistance helped a customer to claim his place in the record books As will become evident, the 'hobby' descriptor casually underplays the all-consuming passion which Justin shares with his fellow skippers and which, with Raymarine's assistance, saw them helping a customer to claim his place in the record books. Justin explains how the client in question would have missed out altogether on setting a world record had a Raymarine Axiom 9RV multifunction display not alerted those on board the Fish Tales boat on that particular day to a striking presence in the water. "Mark Manchip, one of our most long-standing skippers, was out on a spear-fishing charter," Justin begins, "but by 1600 they still had no fish on the boat. Like the spear, Dewald Lategan, was busy packing up his kit, Mark saw a big fish enter the chum line on the Axiom 9RV side-scan, and it then stayed under the boat, eating the chum. Mark told Dewald to quickly kit up and jump into the water, which delivered quite a result: the fish turned out to be a world-record bigeye tuna of 117kg." Importance of gear This clear highlight from the company ledger also neatly demonstrates how essential it is for Justin and the team to be armed with the best available gear if they are to ensure fulfilling results for their clients while scratching the itch that keeps them casting lines themselves. As such, Fish Tales Charters runs two robust, all-round vessels, Fish Tales and Fish Tales II, both purpose-built by carrying Cat Marine, and both fully equipped with Raymarine electronics. "We commissioned them both," Justin confirms. "The first boat, Fish Tales, was a 25-footer which is now a 28-footer, and Fish Tales II was the first of the line for their 33-footers. We had a lot of input into the design of the cabin and cockpit." Fishing Justin and his co-workers routinely join in with the fishing when customers charter the boats As Dewald Lategan's record-breaking catch memorably proves, Justin and his co-workers routinely join in with the fishing when customers charter the boats. "We specialise in yellowfin tuna and bigeye tuna," he says – his own personal record for a yellowfin tuna catch is an impressive 104kg specimen – "and then the odd southern bluefin comes up, in addition to lots of albacores, longfin tuna. At this time of the year, we operate in Struisbaai, the southernmost tip of Africa, and we focus on yellowtail, which is also a pelagic species; you get them in New Zealand too. On a typical day, we'll catch 10 to 15 different species of fish." Installation of electronics As was vividly established earlier, the array of Raymarine electronics installed on both boats is key to the success of these outings. Fish Tales is equipped with three Axiom MFDs, a Quantum radar system with a range of 24NM, an Evolution autopilot, a transom-mounted TM265lh 1KW CHIRP transducer, an RVX1000 3D clear pulse CHIRP sonar system, and an RV-100 RealVision 3D CHIRP transducer. The RV-100 is consistently indispensable for helping to catch yellowfin tuna, as Justin explains. "Compatible with the Axiom displays, the RV-100 combines 3D, Downvision, and SideVision, The SideVision is useful for when we create a chum line in areas where the yellowfin tuna are located. We get a lot of people who want to do side casting, and the RV-100's SideVision allows us to pinpoint the fish. We're able to say, for example, cast your popper on the port side of the vessel at 30m, and then you'll be in the area where the fish are. So that has been extremely beneficial to us. It's made a really big difference." High-end equipment FLIR thermal camera is a valuable collision-avoidance asset on charters The flagship vessel, Fish Tales II, has more high-end Raymarine equipment on board. A FLIR thermal camera is a valuable collision-avoidance asset on charters where nighttime sea hours are involved; while Justin is proud to observe that the large 24in Axiom XL MFD on the vessel (paired with a 12in Axiom Pro) was the only one in Africa at the time of installation. "The core functionality on both boats is the same, however," Justin points out, with Raymarine ship-to-shore communication and VHF radio systems rounding out the specification. Raymarine's ambassador Fish Tales became Raymarine's official Ambassador for South Africa in 2018, an accolade which Justin says "means a lot to us. It's recognition from an international brand that they regard us as a proper, ongoing business." Shrewd and attentive budgeting has enabled the company to withstand the worst effects of the pandemic. Charterers can once more look forward to productive excursions with Fish Tales – as long as they don't bring any bananas or boiled eggs on board. "It's just a bad omen," Justin laughs. "Whether you believe in it or not, we tend to find the fishing is much worse if somebody smuggles bananas or boiled eggs onto the boats. No fish come out on the day!"
A state-of-the-art Raymarine electronics package for P&O's 'indestructible' new pilot boat
Tideman Boats' latest pilot vessel is destined for an active working life with P&O Maritime Logistics in Mozambique, equipped with an array of cutting-edge Raymarine electronics. Offshore support vessels have a demanding life and none more so than the pilot boats which transport crews between ship and shore. Travelling at high speeds in often jarring sea states, these vessels are expected to combine an exceptional standard of safety with similarly pronounced levels of structural strength and ride comfort.