Motor products updated recently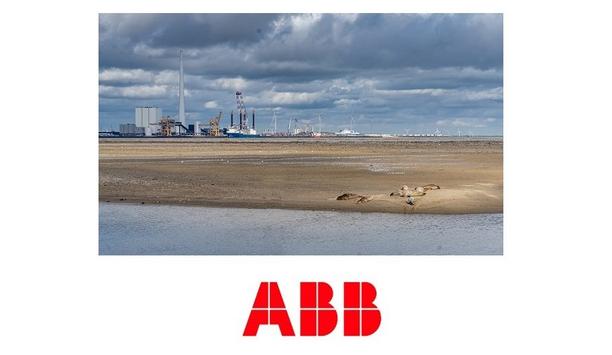 ABB to help decarbonise district heat supply near UNESCO World Heritage area in Denmark
Urban areas account for over 70 percent of the world's CO2 emissions, with heating and cooling representing the largest share of energy consumption, so delivering sustainable and affordable heating and cooling to cities is a priority in the fight against climate change. ABB will deploy its complete electrical, instrumentation, and control (EIC) package, motors and variable speed drives for the powerhouse of the heat pump, which will be the world's largest seawater heat pump based on CO2 as a refrigerant. Green alternative With Esbjerg facing the UNESCO world heritage area of the Wadden Sea, the careful selection of the right pump was essential. The 50 MW seawater heat pump system from MAN Energy Solutions, a long-standing customer of ABB, converts electrical energy into thermal energy and uses toxicologically safe CO2 as a refrigerant for the entire system cycle. "With the cornerstone laid for flexible and sustainable district heating, our vision is to continue to create quality green alternatives in renewable electricity production," said Christian Udby Olsen, CEO at DIN Forsyning. Hybrid heat plant DIN Forsyning is developing a hybrid renewable district heat plant to replace heat currently supplied by Esbjerg CHP As part of their 2030 strategy to pursue a 100 percent fossil-free heat production with zero loss of applied resources, DIN Forsyning is developing a new hybrid renewable district heat plant to replace heat currently supplied by the Esbjerg coal-fired combined heat and power (CHP) plant. For the CHP plant, which produces about half of all district heating for Esbjerg to be decommissioned in April 2023, DIN Forsyning had to be ready with alternative heat sources for the district heating, which can reduce primary energy consumption by 50 percent and generate low-carbon energy from heat pumps. Replacing coal as a source ABB's technology will contribute to the replacement of the coal-fired plant as the main source of heat for the city of Esbjerg and get closer to the goal of reducing carbon emissions in the city. It will also be deployed to ensure that the entire heating network can be powered from renewables, and distributed to the plant, through connections to the offshore wind turbines in the North Sea. In addition, ABB will supply a medium voltage variable speed drive, motors, as well as electrical and control solutions to support the high efficiency of the system and the accurate control of this massive heat pump. District heating Christian Udby Olesen added, "District heating is an important part of Esbjerg city's ambition to become a CO2 neutral municipality by 2030. The technology of partners as ABB is instrumental in our ability to revolutionise the future of district heating, which will be based on new green solutions. We believe that this approach will resonate both in Denmark and the rest of the world." "At ABB, we embed sustainability in everything we do to enable energy-efficient, low carbon operations and support the development of new and renewable energy models, so this project to transform the global district heating system and provide a greener solution for the residents of Esbjerg is a particularly exciting one for us," adds Per Erik Holsten, Head of Energy Industries for Northern Europe at ABB.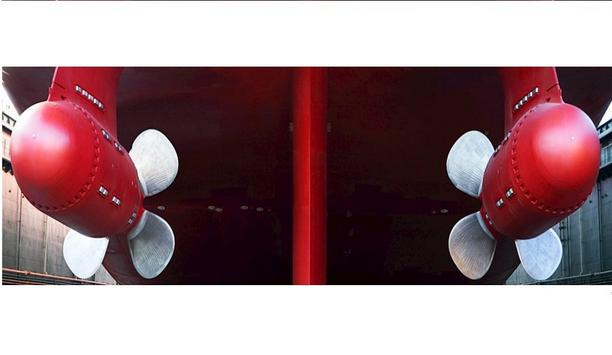 ABB's Azipod® propulsion continues conquering ice
Where winters are harshest, the toughest technology is required for marine operations to continue uninterrupted during the frozen months. For 30 years, Azipod® propulsion has proven to be up to the task, keeping harbours open and moving goods and people through the most challenging sea ice conditions on the planet. A revolution from the start, Azipod® technology has continued to break new ground, or ice, throughout its lifetime. More than 90 ice-going vessels equipped with Azipod® propulsion are sailing today, representing a steadily evolving series of innovations in power and performance. High-speed and lesser power Icegoing ships powered by Azipod® propulsion can operate with the so-called Double-Acting ship capabilities, running ahead in open water and astern in heavy ice conditions. Propellers mill the underwater part of the ice ridge to open a passage allowing the ship to move ahead Propellers mill the underwater part of the ice ridge to open a passage; water flow generated by the propeller flushes the hull, allowing the ship to move ahead with ease. This capability allows ships to navigate in ice-covered seas without icebreaker assistance while keeping higher speeds and consuming less power. "Vessels with fuel-efficient Azipod® propulsion can keep ice channels open more effectively than conventional icebreakers with shaft line propulsion, allowing ships following behind to use less fuel as well. Emitting zero pollutants to the sea, Azipod® propulsion leaves nothing in its wake but open water," said Sakari Sorsimo, Head of the Ice Segment, ABB Marine & Ports. Conceived for the cold The idea of a steerable propulsion unit was conceived in Finland in the 1970s, primarily with icebreaking in mind. Ice tests at Kvaerner Masa Yards in Helsinki helped engineers to understand the advantages that steerable propulsion could provide to ice-going vessels, in addition to icebreakers. The ice-going waterway service vessel Seili became the first ship to be powered by Azipod® propulsion in 1991. In 1993, the tanker Uikku was fitted with Azipod® propulsion. Due to her remarkable icebreaking capabilities, she became the first non-Soviet merchant vessel to navigate the entire Northern Sea Route in 1997. Enticed by the success of Uikku, the Russian mining company Norilsk Nickel began investigating the use of icebreaking bulk ships to avoid costly icebreaker escort fees. Investment in the new technology paid off, eliminating the need for icebreaker assistance when they entered service in 2006. Supplying propulsion systems Azipod® propulsion strongly contributed to the vessel's successful passage while facing challenging conditions" Further technical and commercial developments followed, and in a milestone contract in 2014, ABB has secured an order to supply electrical power and propulsion systems for a fleet of 15 specially designed tankers transporting liquefied natural gas (LNG) year-round from one of Russia's most significant export developments in a generation – Yamal LNG. The fleet's 300-meter Christophe de Margerie, the world's first icebreaking LNG carrier operated by Sovcomflot, made the Northern Sea Route crossing in 19 days without the aid of an icebreaker in 2017. "ABB Azipod® propulsion strongly contributed to the vessel's successful passage while facing some of the world's most challenging ice conditions," said Igor Tonkovidov, President and Chief Executive Officer, Sovcomflot, SCF Group. Cost-savings In 2020 ABB extended its string of orders to the Arctic LNG trade, with a contract to deliver power and propulsion to six new LNG carriers for transporting gas along the Northern Sea Route. Scheduled to enter service in 2023, each of the six new build ARC7 class vessels will feature a trio of the largest and most powerful Azipod® propulsion units ever supplied for ships operating in ice. Each propulsion system will have a total capacity of 51 MW, which is comparable to a nuclear-powered icebreaker. The Northern Sea Route represents one of the planet's vital shipping arteries. Offering 30 percent faster passage than the southern Europe-Asia alternative via the Suez Canal, the Arctic alternative is attractive for the fuel and emission savings it offers. Groundbreaking icebreakers Polaris was equipped with three Azipod® thrusters, two on the stern and one in the bow Dubbed "the world's most environmentally friendly icebreaker" upon its commissioning in 2017, Polaris, the world's first icebreaker powered by LNG, was equipped with three Azipod® thrusters, two on the stern and one in the bow. Polaris Master Pasi Järvelin praised the vessel's performance after its first months at sea, "Polaris is much more agile than any other icebreaker. This is not only due to the dual aft Azipod® thrusters, but also the bow-mounted Azipod® unit, which has proven to be an excellent aid for maneuvering in ice." In 2018 the Xue Long 2 research vessel became the first icebreaker to be built entirely in China, equipped with Azipod® propulsion. "Two key goals for the Xue Long 2 were maximum flexibility and durability," said Rong Huang, Chief Engineer, and Designer of the Polar Research Institute of China. Speaking about Azipod®'s propulsion, he added that the system ensured the new vessel's ability to carry out her missions in varying Arctic and Antarctic ice conditions "with the highest possible regularity." Azipod-powered ship Equipped with twin 5MW Azipod® icebreaking units, in 2019 the Norwegian Coast Guard vessel KV Svalbard became the first-ever Azipod-powered ship to reach the North Pole, on a mission to map changing water temperatures in the Arctic. "Keep in mind that this is the region with the most extreme ice conditions on the planet. The success of the mission was a major accomplishment given the physical and environmental parameters," stated Andreas Kjøl of the Norwegian Coastal Administration. Robust propulsion system ABB secured a contract to equip the first US Coast Guard Polar Security Cutter (PSC) with Azipod® propulsion "We were able to navigate through the Arctic waters and reach the North Pole faster than we thought possible," reported Ottar Haugen, Norwegian Coast Guard commander. "This was a significant milestone for us and proof that we have a vessel in our fleet equipped with a robust propulsion system that enables operations in the harshest ice conditions – all the way to the North Pole." Equally popular on the other side of the Atlantic, in 2019 ABB secured a contract to equip the first US Coast Guard Polar Security Cutter (PSC) with Azipod® propulsion. The new vessel represents a continuation of 15 years of successful operational experience from the USCG Great Lakes Icebreaker Mackinaw, equipped with two Azipod® units. Proven performance, sustainable future The fuel and emissions-saving capabilities of Azipod® electric propulsion have made it the technology of choice for ice-going and icebreaking vessels for 30 years. "We are committed to supporting the growing Arctic maritime industries with our unparalleled technology that has over the years proven to enable safe, sustainable operations and ensures year-round transportation of cargoes across the Northern Sea Route," confirms Juha Koskela, Division President of ABB Marine & Ports.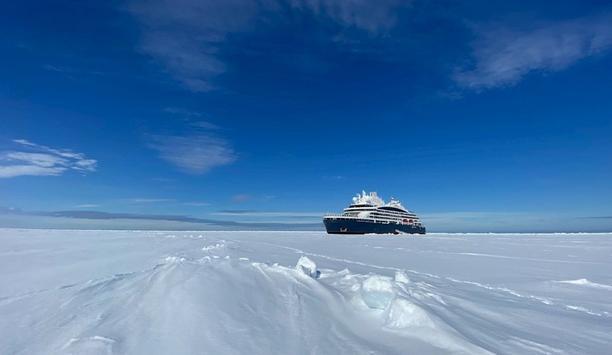 ABB provides Azipod propulsion units to Le Commandant Charcot to enhance passenger experience
The hybrid-electric exploration cruise vessel Le Commandant Charcot became the first vessel of its kind to reach the geographic North Pole on September 6, 2021, as it was completing the sea trials in preparation for welcoming guests for the maiden voyage later this year. Equipped with Azipod® propulsion technology, the luxury cruise ship produces minimal noise and vibrations to provide a comfortable passenger experience. Moreover, the ship's energy storage system, supplied and integrated by ABB, is the largest ever delivered to a vessel of its kind at almost five megawatt hours, allowing the engines to be switched off for silent, emissions-free cruising. Energy storage system Le Commandant Charcot will also be available to the scientific community contributing to the global efforts in the study and preservation of the Poles and oceans. The vessel is equipped with measurement instruments, and features science labs as well as a moon pool for taking samples, with all of the equipment designed to meet the requirements of academic research. Le Commandant Charcot offers a platform for observation, research and analysis to scientists With that, Le Commandant Charcot offers a platform for observation, research and analysis to scientists around the world, enabling them to study remote areas by regularly collecting data in these zones. "ABB designed both the Azipod® propulsion units and the energy storage system to meet the precise operational requirements of Le Commandant Charcot," said Mathieu Petiteau, Director, Newbuilding and R&D, PONANT. Zero-emissions mode "As well as ensuring a high level of passenger comfort, the vessel is capable of cruising in zero-emissions mode while exploring remote locations. Thanks to the Azipod® system's maneuverability, the ship will also be able to navigate smoothly and safely through icy waters." "Azipod® propulsion has become the preferred solution for exploration cruise vessels operating in highly sensitive and demanding marine environments. We are proud to have been chosen by PONANT and look forward to seeing Le Commandant Charcot in action for the years to come," said Dick Björkqvist, Global Segment Manager, Cruise, ABB Marine & Ports. With the electric drive motor situated in a submerged pod outside the ship hull, the Azipod® system can rotate 360 degrees, significantly increasing maneuverability and operating efficiency of a vessel and cutting fuel consumption by up to 20 percent compared to conventional shaftline systems. Passenger cruise segment Le Commandant Charcot is the first cruise ship with the ability to sail in 'double-acting mode' Since its launch 30 years ago, Azipod® propulsion has saved a total of over 1,000,000 tons of fuel in the passenger cruise segment alone. Options for Azipod® propulsion range from 1 to 22 megawatts, and its technology plays a key role in ABB's strong position for environmentally-friendly electric propulsion. Le Commandant Charcot is the first cruise ship with the ability to sail in 'double-acting mode', meaning it can navigate stern-first in ice conditions to improve safety and complete cruises in a timely and efficient manner. In addition, the Azipod® system allows the vessel to be brought to a complete stop in 50 percent less time than a ship with a traditional shaftline set-up. Remote equipment monitoring The vessel's emphasis on safety is further reflected in its connectivity to the ABB Ability™ Collaborative Operations infrastructure. ABB's scope of supply for this pioneering vessel also includes power generation and distribution technology With round-the-clock access to a worldwide network of ABB experts, Le Commandant Charcot will benefit from remote equipment monitoring and diagnostics for enhanced passenger and ship safety – services that are particularly important for vessels operating in the farthest reaches of the globe. ABB's scope of supply for this pioneering vessel also includes power generation and distribution technology, propulsion-control and remote-control systems and a Power and Energy Management System (PEMS™). Reduced fuel consumption Through the PEMS™, Le Commandant Charcot will optimise the use of its hybrid power supply – comprising the main power source, liquefied natural gas, and the energy storage system – to ensure optimal engine load with reduced fuel consumption and emissions. The ship also features ABB's Power2 two-stage turbocharging solution, further increasing fuel savings by up to five percent. "With yet another high-spec passenger vessel delivered to its owner featuring ABB integrated power and propulsion technology, we are rapidly expanding our portfolio in this segment," says Juha Koskela, Division President, ABB Marine & Ports. "Le Commandant Charcot perfectly demonstrates the benefits of our electric, digital and connected solutions for this kind of ship, offering a blueprint for other expedition vessels to follow."