Jeremy Nixon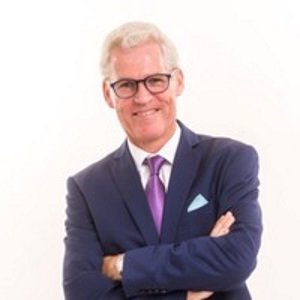 Jeremy Nixon
CEO,
Ocean Network Express (ONE)
Jeremy Nixon is the CEO of Ocean Network Express. Previously Jeremy Nixon was the CEO of NYK Line.
News mentions
Hapag-Lloyd and Singapore-based Ocean Network Express (ONE) Pte. Ltd. announced they have completed integration onto the TradeLens platform, helping ensure a more timely and consistent view of logistics data for their containerised freight around the world. TradeLens is a neutral, third-party platform launched by IBM and A.P. Moller - Maersk to help modernise the world's supply chain ecosystems and is run on IBM Cloud and IBM Blockchain. Benefitting from TradeLens Profit from TradeLens' ability to increase efficiency and improve access to information Since the completion of multiple pilot projects as well as the integration, Hapag-Lloyd and ONE, the world's fifth and sixth largest carriers respectively, are now working to help their clients and business partners across all major geographies benefit from TradeLens' ability to increase efficiency and improve access to information. They join foundation carriers A.P. Moller - Maersk, as well as CMA CGM and MSC Mediterranean Shipping Company (MSC) who both completed their pilots and integration in October 2020, and five other carriers already inputting shipping data into the TradeLens platform. On-boarding new organisations Additionally, TradeLens continues to rapidly on-board new organisations from across the shipping industry, recently adding shippers and importers including Van den Ban Tires which use the platform to address back-office inefficiencies and improve the visibility of cargo. Recently, KLog.co also became the first freight forwarder in Latin America to join TradeLens to improve efficiency, decrease operational costs and advance KLog.co's goal of opening up international trade to all companies in the region, no matter the size of the business. Increased Transperency "TradeLens technology holds great potential to help enable the digitisation of supply chain processes and documentation handling," said Rolf Habben Jansen, CEO of Hapag-Lloyd. "Our customers will clearly benefit from increased transparency, accuracy, speed and efficiency in their supply chains - leading to reduced cost." About TradeLens Ecosystem TradeLens has processed 42 million container shipments, nearly 2.2 billion events and 20 million documents The TradeLens ecosystem now includes more than 300 organisations – encompassing ten ocean carriers and data from more than 600 ports and terminals. TradeLens has already processed 42 million container shipments, nearly 2.2 billion events and some 20 million documents. In total, five of the top six global shipping carriers are now integrated onto the platform contributing to the digitisation of documentation and automated workflows. "We believe TradeLens can bring together all parties in the supply chain to the digital ecosystem where customers can get seamless, transparent and secure sharing of shipping milestones and trade documents. With its open standards and open governance, it can benefit our customers and the entire industry to drive for digitalisation and automation," said Jeremy Nixon, CEO of Ocean Network Express. Permission to access digitised multi-carrier visibility TradeLens offers shippers and freight forwarders direct, permissioned access to digitised, multi-carrier visibility and documentation processes through a single platform, reducing the need for paper-based processes and giving participants in global trade a single, up-to-date picture of the flow of their goods. Through the TradeLens platform, network participants can easily connect their key supply chain partners to the digital platform as well, allowing data and documents to be published and consumed more quickly and only among permissioned parties. Improving automation and forecasting "A huge barrier to global trade has long been the inability for customers to securely share crucial information regarding the status of goods in an easily accessible and transparent way," said Mike White, CEO GTD Solutions and Head of TradeLens. "By addressing this problem, the TradeLens ecosystem has grown rapidly, and the onboarding of Hapag-Lloyd and ONE along with their customers helps extend the value of TradeLens across the entire TradeLens ecosystem, enabling connectivity to two-thirds of global containerised freight for all customers and other permissioned parties through a single platform. All participants benefit from reduced manual processes, while also streamlining processes from automation and improved forecasting."
Ocean Network Express (ONE) initiated a Global Marine Safety and Quality Campaign during the months of September and October 2019, to reiterate marine navigation safety practices. A month prior to the campaign, ONE's CEO - Jeremy Nixon, chaired a 'Marine Safety and Quality Management Conference' for management at ONE's global headquarters, where critical aspects of safety and quality status for ONE's operated vessels were discussed, and priorities determined for ONE's product offering. Navigation safety excellency Following the conference and part of the Global Marine Safety and Quality Campaign, ONE's management visited and inspected more than 15 operated vessels in Singapore to accentuate the importance of navigation safety. Amid the inspection, the Master and Chief Engineer were engaged to analyse further measures that could be taken on board to achieve navigation safety excellency. ONE is also rolling out management vessel visits worldwide to reinforce marine navigation safety practices at a global scale. Together with vessel crews' extended efforts in safe and efficient operations, ONE upholds their core values of continuous quality service delivery and reliability to their valued customers.
Members of THE Alliance, Ocean Network Express (ONE), Hapag-Lloyd, and Yang Ming announced a fourth member, Hyundai Merchant Marine (HMM), a South Korean container liner shipping company to join The Alliance as a full member. Through this, the members of THE Alliance have also decided to establish a new cooperation with four members and a term until 2030. The actions were agreed in Taipei on 19 June 2019. Subject to the necessary regulatory approvals, the new contract between the four lines will start on 1 April 2020. Offering enhanced services HMM has ordered twelve 23,000 TEU vessels which will be delivered in the second quarter of 2020. Additionally, eight 15,000 TEU new buildings will join HMM´s fleet in the second quarter of 2021. HMM's 23,000 TEU new buildings will be deployed in the Far East – North Europe trade and will further strengthen THE Alliance´s service portfolio. We are very happy to see HMM join THE Alliance, as their membership will allow us to offer enhanced services" "We are very happy to see HMM join THE Alliance, as their membership will allow us to offer enhanced services to our customers due to a wider port coverage, expansion of our product offerings, more sailing frequencies and a better balance of our cargo flows," commented Jeremy Nixon, CEO of Ocean Network Express. Generating additional value Jae-hoon Bae, President and CEO of HMM: "Being a full member of THE Alliance gives us a lot of pride. We are convinced that we will be successful and generate additional value for our customers, employees and shareholders with combined experience, strategic skills, competitive fleet and strong focus on our clients´ needs." THE Alliance was founded by Hapag-Lloyd, together with Kawasaki Kisen Kaisha ('K' LINE), Mitsui O.S.K. Lines (MOL) and Nippon Yusen Kaisha (NYK) (the three companies merged their liner services to become Ocean Network Express – ONE) and Yang Ming. It started its cooperation on 1 April 2017.
Experts sections