Vikash Agarwal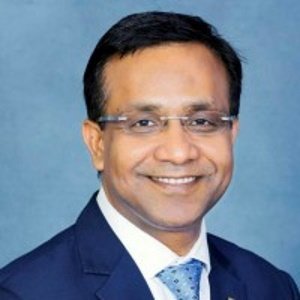 Vikash Agarwal
Managing Director - South Asia,
A.P. Moller - Maersk
Vikash Agarwal is presently working as the Managing Director of South Asia at A.P. Moller - Maersk. Prior to this, he was the managing director at CIVA Logistics, regional finance controller and corporate review manager at TNT. Vikash got his education from Rajkumar College Raipur, Delhi University and The Institute of Chartered Accountants of India.
News mentions
A.P. Moller – Maersk (Maersk), an integrated container logistics company, is supporting the society fight the second wave of COVID-19 pandemic in India by facilitating the logistics and supply chain of medical relief. Maersk has offered its ocean transportation service to institutions and organisations participating in medical relief at a nominal rate of 1 USD per container. All commercial air freight shipments facilitated by Maersk India are being done on a zero-profit basis. Transportation of medical facilities & Logistics When the second wave of the COVID-19 pandemic hit India, the medical infrastructure came under a lot of pressure. An acute shortage of oxygen supply in hospitals led almost all the industrial oxygen manufacturing in the country to be diverted for medical purposes. Maersk stepped in and through its network-connected the sellers of tanks and oxygen concentrators However, the challenge of transporting the oxygen to medical facilities posed an even bigger roadblock due to a lack of cryogenic oxygen tanks that are required for transporting the medical oxygen. At this time, Maersk stepped in and through its network-connected the sellers of such tanks and oxygen concentrators from around the world to the organisations that were willing to lease or buy them in India.This, in addition to the integrated logistics solutions offered by Maersk that range from air freight, ocean freight, landside transportation to customs clearances, warehousing and distribution and digital solutions proved to be vital in handling the complexity involved in the entire process of bringing the medial aid into India. Project Oxygen War Room (POWR) "The COVID-19 pandemic has taught us several lessons – empathy being one of the most important ones of them all. The crisis has urged us all to go beyond our business and support society when it needs it the most. 15 of our top executives from different functions voluntarily got together in the early days of the second wave and put together 'Project Oxygen War Room', or POWR as they called it, to help society fight the virus," said Vikash Agarwal, Managing Director, Maersk South Asia. He added, "The team went far beyond their day-to-day jobs to create a platform for buyers to meet sellers and implemented logistics for the medical aid coming into India. They worked relentlessly to put everything into action – from enabling charter planes to rapid clearances of emergency cargo to setting up visibility dashboards for transparency across different stakeholders involved in the transportation of the goods." Logistics shipments The logistics activities undertaken by Maersk in order to support the medical aid into the country involve facilitating shipments coming in from countries such as Ireland, Finland, China, Germany, U.A.E., Qatar, Israel, South Africa and Singapore with more shipments from China, Turkey and Dammam still in progress. Supporting Indian Society Arvind Ambo, Head of Chemicals Vertical, Maersk South Asia and Project Leader for supporting the medical aid coming into India remarked, "The last 5 weeks have been the perfect opportunity for us at Maersk to make an impact along with our core value of 'Constant Care'." "We are putting together the most complex pieces of a jigsaw puzzle in order to support the Indian society. The situation in India has led a lot of organisations that are not well-versed with the complexities of global supply chains to take up this humanitarian task and it was our goal to handhold them through this journey."
The automotive manufacturing sector works on a 'Just-In-Time' model for the supply chains of its parts and components. Automotive manufacturers require highly reliable logistics services that can move their raw material and finished products on precise schedules to ensure uninterrupted production processes. For years several of these manufacturers based in and around Gurugram, the northern part of India, has been dependent on staggered and unscheduled rail movement for their cargo going in and out of the country. Delayed imports hamper production schedules while delayed exports pile up inventories for the manufacturers. In response to the needs of the automotive sector, Maersk India has launched the first 'Automotive Express' whose first run was virtually flagged off on 18th April 2021 by Denmark's Ambassador to India, His Excellency Freddy Svane. Offering reliability Maersk connects customers to their global import and export destinations through the MECL and FI3 services "Manufacturing is an extremely important building block of our country's economy. As a service provider to this critical segment, our goal is to streamline their supply chains and offer the highest levels of reliability," commented Vikash Agarwal, Managing Director, Maersk South Asia. He added, "With the 'Automotive Express', we are not only simplifying our automotive customers' supply chains by offering integrated logistics solution that bundles ocean and landside transportation, but is also driving cost and time efficiencies through the precisely scheduled movement of their cargo." Intermodal operator "GatewayRail is excited to jointly launch the new 'Automotive Express' with Maersk that connects customers to their global import and export destinations through the MECL and FI3 services at APM Terminals Pipavav Port." "GatewayRail has been a pioneer in innovative intermodal services such as the 'Ship to Rail Service' and now the 'Automotive Express' and is proud to be the intermodal operator of choice for Maersk India," said Sachin Bhanushali, Director & CEO, Gateway Rail Freight Ltd. Keeping supply chain on schedule This new rail service runs from the Garhi Harsaru Inland Container Depot (ICD) in Gurugram to APM Terminals Pipavav Port for exports and returns with import cargo. It will have the capacity to move 180 TEUs (Twenty Feet Equivalent Containers) each way and will support more than 25 customers from one of the most important automotive manufacturing belts of India. The customers booking their cargo on 'Automotive Express' will also have priority discharge from the port for higher reliability and to keep their supply chains on schedule. Connecting the services Automotive Express will connect the cargo to Maersk's Ocean transportation services The 'Automotive Express' will connect the cargo to Maersk's Ocean transportation services from APM Terminals Pipavav to North American as well as the Far East and South-East Asian markets on the MECL service for exports and FI3 and MECL services for imports. With this new service, Maersk is taking a step forward towards strengthening its landside transportation offering in the country. By connecting key manufacturing hubs and ports through a solid network of trucking, rail and depots, Maersk is bringing a reliable and tailored solution to its customers. Maersk also runs other dedicated rail services for its customers that offer the movement of agricultural produce, retail, apparel, furniture and stones from several states across North India for export and import. Maersk runs two dedicated rail services for exports and four dedicated rail services for imports in collaboration with GatewayRail and has completed around 200 dedicated trips in past two years.
Experts sections