MAN Energy Solutions Marine Propellers
(2)
Browse Marine Propellers
Other MAN Energy Solutions products
Propeller products updated recently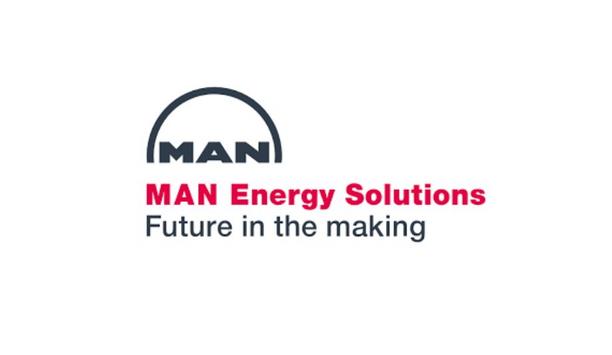 MAN Energy Solutions signs MoU with Mitsui E&S and Mitsui O.S.K.
MAN Energy Solutions has signed a Memorandum of Understanding (MoU) with Mitsui E&S Machinery Co., Ltd. (MES-M) and Mitsui O.S.K. Lines (MOL) regarding the low-speed, ammonia-fueled main engine that MAN Energy Solutions is currently developing. The MoU provides for keeping MOL and MES-M updated on MAN Energy Solutions' progress in this regard, with the ultimate intention of creating the basis for a more detailed LoI (Letter of Intent) leading to an actual purchasing contract for an ammonia-burning engine during 2023. Signatories of the memorandum The signatories of the memorandum were: Yoshihiko Sugimoto, General Manager Technical Division, Technology Innovation Unit, Mitsui O.S.K. Lines Ltd.; Yusuke Sakimoto, Executive Officer, General Manager of Diesel Engine Division, Mitsui E&S Machinery Co., Ltd.; and for MAN Energy Solutions: Bjarne Foldager, Senior Vice President and Head of Two-Stroke; and Brian Østergaard Sørensen, Vice President, Head of Research and Development, Two-Stroke. Authority comment Sørensen said, "This memorandum underlines our mutual commitment to reducing the environmental footprint of shipping and emphasises our ambition to ensure a path towards net-zero emission, oceangoing vessels. At the same time, it shows one of the ways forward to decarbonisation for the maritime transport industry as a whole."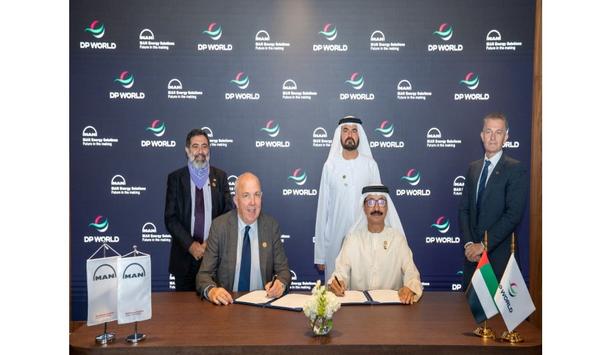 MAN Energy Solutions and DP World sign strategic partnership agreement
MAN Energy Solutions has signed a cooperation agreement with DP World (Drydocks World), the globally renowned provider of smart logistics solutions. Effective immediately, the agreement targets common progress in the field of decarbonisation and is scheduled to run for five years, with an option to extend thereafter. Wayne Jones OBE – Chief Sales Officer, and Gaby Hanna – Senior Vice President and Head of Region – Middle East & Africa, acted as signatories for MAN Energy Solutions, while Sultan Ahmed Bin Sulayem – Group Chairman & CEO, signed on behalf of DP World. Key steps to decarbonise Shipping "To achieve net zero emissions, we must recognise the importance of taking urgent and immediate steps to decarbonise shipping and the way to do that is by identifying opportunities to forge partnerships, with renowned industry players and governments, to develop solutions that will allow us to reap tangible results." said Captain Rado Antolovic, the Chief Executive Officer (CEO), DP World (Drydocks World). Wayne Jones said "We have worked closely with DP World on many projects, over the years and are very happy to enter into this formal agreement. In the transition towards a carbon-neutral future, we aim to achieve sustainable value-creation, by addressing the challenges inherent to the marine, energy and industrial sectors. Ultimately, we intend to develop pioneering solutions, to the issues posed by decarbonisation and will work with selected partners, to achieve this." Strategic partnership purpose and scope Mutual areas of interest for the two companies include green-fuels infrastructure, future-proof conversions Mutual areas of interest for the two companies include green-fuels infrastructure, future-proof conversions (LNG, methanol, ammonia, etc.), hybrid drives, electric engines R&D and training, and investigation of their respective, global footprints, to further reduce the environmental impact of shipping traffic, in terms of fuel consumption and emissions. MAN - DP World partnership MAN Energy Solutions has previously collaborated with the DP World Group, on many occasions. The most recent of these was in September 2021, when the 'ElbBLUE', a container ship operated by charterer, Unifeeder – part of the DP World Group – bunkered 20 tons of green SNG (Synthetic Natural Gas) at Brunsbüttel, Germany. In a first for commercial shipping, the fuel was generated from 100% renewable energy via power-to-X technology. Formerly known as the 'Wes Amelie', the 1,036-teu feeder container ship, previously made headlines in 2017, when its MAN 8L48/60B main engine was retrofitted to its current, four-stroke MAN 51/60DF unit, to enable dual-fuel operation. The first such conversion of its type globally, it showed that existing engines could be converted to LNG operation, with a tremendous effect on exhaust emissions and the environment. Maritime Energy Transition MAN Energy Solutions believes that it is time for what it calls a 'Maritime Energy Transition' to find clean, decarbonised solutions, for seaborne trade and transportation. Essentially, it is the company's call to action, in order to reduce emissions and establish zero-carbon fuels, as the fuels of choice, in global shipping. It strongly promotes a common approach, by the shipping industry and politics to invest in infrastructure development, and retrofits.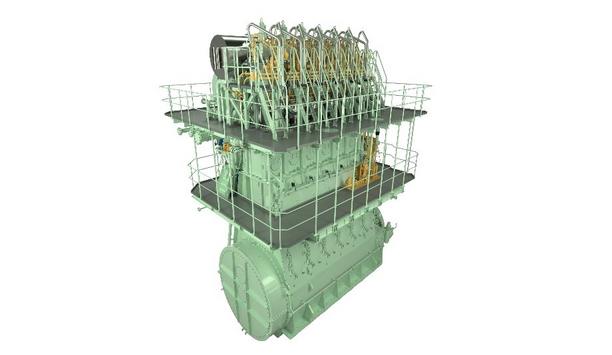 MAN Energy Solutions announced dual-fuel portfolio passes two million running hours
MAN Energy Solutions has announced that its portfolio of two-stroke, dual-fuel engines have accumulated more than two million operating hours in total, running on LNG, methanol, ethane and LPG. The news comes on the back of the 470 engines the company has received orders for – with over 185 already in service – and all running on the aforementioned alternative fuels. Bjarne Foldager, Senior Vice President and Head of Low-Speed, MAN Energy Solutions, said, "This significant milestone owes everything to us providing the solutions demanded by the market and stands as a testament to our leadership in this vital, marine segment. Our strategy offers a clear path to decarbonisation and it is evident that the increasing adoption of dual-fuel technology has become an irreversible trend." Dual-fuel journey MAN Energy Solutions' dual-fuel journey began in 2011 with a full-scale test of a ME-GI (-Gas Injection) engine at its Research Centre Copenhagen, followed by the first delivery in 2014. The first engine tests of the ME-LGI (-Liquid Gas Injection) platform began in 2015, followed by the first sea trial for the ME-LGIM (methanol) engine in 2016. Development of an ethane (ME-LGIE) unit followed in 2016 with sea trials already in 2017. Currently, 12 ME-LGIP (propane) vessels are in service, while a MAN-B&W ammonia-fueled engine is due to enter the market by 2024. Reliable and mature technology The seamless switching between fuels ensures that the engines can easily adapt to fuels Peter Quaade, Head of Dual Fuel Engine Group – Two-Stroke Operations – MAN Energy Solutions, said, "New technologies bring design and service-related challenges, which – in the case of our dual-fuel portfolio – we have carefully identified and resolved throughout the last decade." "As a result, this is reliable, mature technology that has achieved exceptionally high running times of more than 95% on alternative fuels, pointing to the high reliability of dual-fuel operation. Furthermore, their seamless switching between fuels, elimination of fuel-slip, and use of the Diesel combustion principle ensure that these engines can easily adapt to run on whatever fuels the industry may prefer in the future." Irreversible trend In respect to decarbonisation, MAN Energy Solutions notes recent reports of European politicians intending to recruit banks to help combat climate change by steering capital away from polluters. Under this scenario, banks would have to inform the ECB (European Central Bank) how their portfolios might evolve in the long-term with the ECB already has made clear that it will gradually start to treat climate as it would any other risk. Similarly, the Global Maritime Forum is currently drafting an equivalent of its Poseidon Principles scheme for marine insurers based on a system measuring alignment with IMO decarbonisation targets. This would focus on the safe and sustainable use of new marine fuels and feature a lifecycle assessment approach to greenhouse gas emissions.